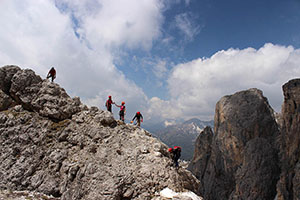 Via Ferrata degli Alleghesi and tour of the Mount Civetta
This beautiful ring tour around Mount Civetta allows you to climb to the top and to do the two famous Via Ferrata of this massif, the via Ferrata degli Alleghesi and via Ferrata Tissi.

Duration: 3 days.
Difficulty: hard.
Participants: maximum 3 for the guide;
Price: starting from € 290 euros
Best Months: June / September

Program:
1st day: material check and ascent to the Tissi refuge (2250 m) from Val Corpassa.
2nd day: ascent of the Ferrata Alleghesi to the top of the Mount Civetta (3220 m) and overnight stay at the Torrani Refuge (2984 m).
3rd day: descent along the via Ferrata Tissi towards Capanna Trieste refuge.


Contact us :-) +39 331-5089786
This email address is being protected from spambots. You need JavaScript enabled to view it.