Climbing in Dolomites Spigolo del Velo Pale di San Martino Group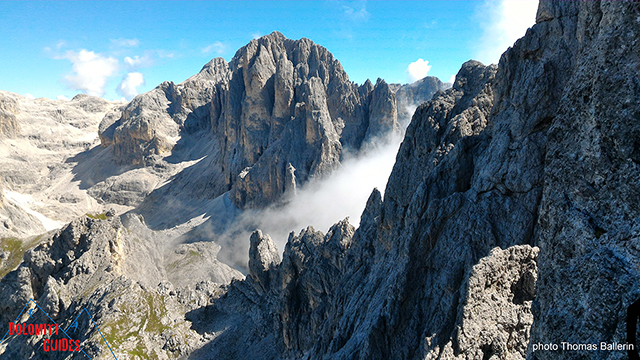 Climbing in Dolomites Spigolo del Velo Pale di San Martino Group
Dolomiti - Climbing Pale di San Martino route edge of the Veil Summit Madonna 100 years edge of the Veil with Langes e Merlet
The edge of the veil at Cima della Madonna is a bow of 400 meters of perfect rock, myth of verticality, exposure, pleasure in movement. This year marks a century, a hundred round years since Gunther Langes and Erwin Merlet opened this itinerary which immediately became classic.

Continuous difficulties, neither too easy nor too demanding.
Exposure, verticality favored by a very worked rock, which offers in addition to numerous holds and supports, hourglasses, spikes and crevices where you can protect yourself safely.
And then the panorama, the evening before at the Rifugio del Velo, the splits between pillar and the other necessary to continue climbing.
Manifestation of that acrobatic mountaineering that made just the right popularity in the Dolomites climbing in those years. Pleasant climbing as few in the Dolomites know how to be. This year is the better occasion to celebrate the anniversary!
First ascenders: G. Langes, E. Merlet il 19 luglio 1920.
Support points: We recommend staying overnight at the Rifugio del Velo

Best mothers: June / September.
Difficulty: IV°+, V°, V°+ 380 mt.
Price: starting from € 380.
The proposed dates:
20-21 June 2020,
18-19 July 2020 the day of the first ascent.
22-23 August 2020,
12-13 September 2020.
It is possible to book the climb on dates other than those mentioned above.



Contact us :-) +39 331-5089786
This email address is being protected from spambots. You need JavaScript enabled to view it.
Tags: Arrampicata alpinistica