Canyoning Dolomites Val Noana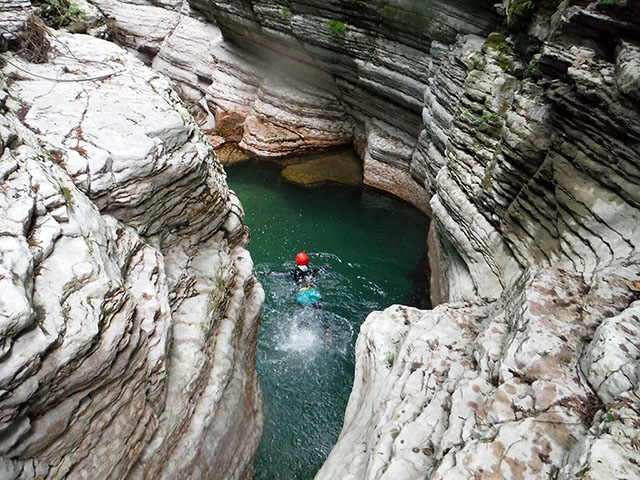 Canyoning Dolomites Val Noana or Rio Neva Fiera di Primiero Trentino
Beautiful easy canyon, made by the waters which come down from the Vette Feltrine in Val Noana.
This valley alternates between easy slides and easy jumps with a few rappels.
Excellent for starters.
Possibility to have lunch at the Fonteghi refuge.
Best Months: May / September.
Difficulty: easy.
Price: 55 € each person (1.30 h in water).

Who can do it? It is an activity for everyone. It is mandatory to have a minimum of confidence with water.
In the "classic" canyons the jumps is not mandatory.
Equipment: technique equipment provided by the Alpine Guides.
What to bring: for the activity in the canyon a pair of shoes to be wet (no too old shoes), a swimsuite dresses,
contact lenses if you have vision problems, smiles!!
At the end of the canyon, a backpack with dry stuff, towel, nylon bag for wet clothing, dry shoes.
The price includes accompanying Alpine Guide, helmet, harness, wetsuit and neoprene shoes, flotation jacket, collective material.

Contact us :-) +39 331-5089786
This email address is being protected from spambots. You need JavaScript enabled to view it.
Tags: Canyoning