Canyoning Dolomites Val Maor Veneto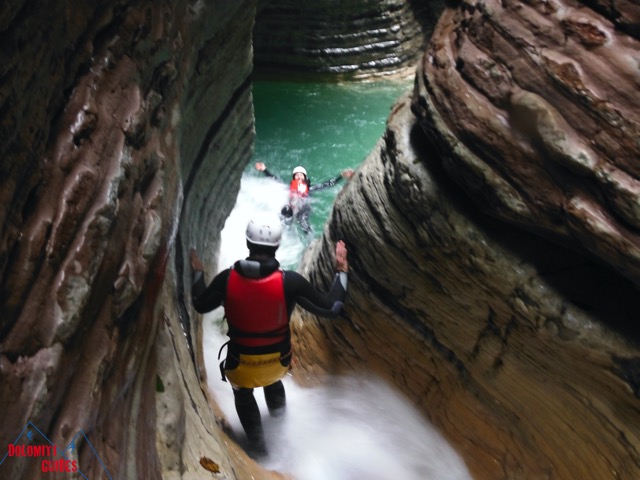 Canyon Val Maor Belluno Veneto
This canyon, located close to Borgo Valbelluna and the amazing Zumelle Castle is one of the pearls of the valley that links from Belluno to Feltre. A short distance from the famous "Blue Cave", an impressive environment for continuity, remarkable darkness, singular beauty, but with few jumps and slides. Choose this tour to find out what canyoning is and you will never stop with this activity... Definitely a unique gorge, suitable for anyone with a minimum of water skills. This canyon has numerous combinations of routes.
Best Months: May / September.
Difficulty: easy / medium
Price: 60 € each person (3.00h in the water).

Who can do it? It is an activity for everyone. It is mandatory to have a minimum of confidence with water.
In the "classic" canyons the jumps is not mandatory.
Equipment: technique equipment provided by the Alpine Guides.
What to bring: for the activity in the canyon a pair of shoes to be wet (no too old shoes), a swimsuite dresses,
contact lenses if you have vision problems, smiles!!
At the end of the canyon, a backpack with dry stuff, towel, nylon bag for wet clothing, dry shoes.
The price includes accompanying Alpine Guide, helmet, harness, wetsuit and neoprene shoes, flotation jacket, collective material.

Contact us :-) +39 331-5089786
This email address is being protected from spambots. You need JavaScript enabled to view it.
Tags: Canyoning